Thortspace, the 3D collaborative thinking application, is ideal for planning and implementing business projects. A recent post, shared by Thortspace user Peter Jones, @innov8tor3, prompted me to create an implementation plan from Peter's '9 Steps to Grassroots Marketing'.
Peter coordinates a social upliftment project for start up entrepreneurs in rural Africa, a legacy of the work commenced by Michael Josefowicz 'Printernet Affiliates'
9 steps for Grassroots marketing, is the basis of a Zero budget marketing plan
My process commences by starting a Thortsphere by importing the 9 Steps into Thortspace :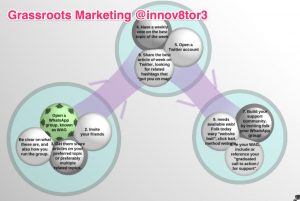 Anticipating that a number of the steps will evolve into sub projects, I have converted these Thorts into 'Embed Spheres', creating a Sphere Constellation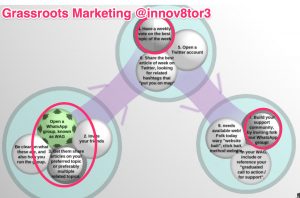 Explore the Sphere Constellation:
at a later stage in implementation, the embedded Spheres will be developed into the sub project actions
To re-inforce and remind I create a Bubble n Speak recording to be shared as On Demand Learning..